Where to Purchase Your Bearded Collie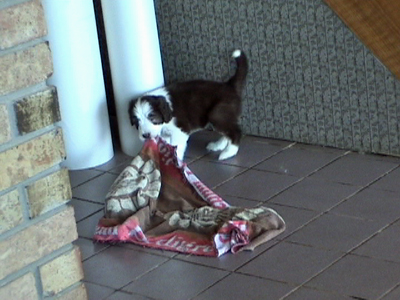 Assuming that you have researched the Bearded Collie and have come to the conclusion that this is the right breed for you, where do you buy one? The Bearded Collie Club of Canada has a current list of breeders. However, inclusion on the list does not constitute endorsement by the club.. It is the responsibility of the buyer to research and determine the breeder's reliability. As a member the Canadian Kennel Club, the BCCC does not sanction the breeding/purchasing of unregistered and/or crossbred Beardies.
Do your homework before you buy. Research the breeder's reputation and after sales support. Be aware that flashy ads and web sites do not always equate to quality puppies or good business practices.
Bearded Collie Buyer Beware
With a popular demand for Bearded Collies, a number of puppy mills, pet stores and a few poor quality breeders are now selling Bearded Collie puppies. Many of these puppies often have ill-health, serious genetic defects, and poor temperaments. After sales support is very limited or non-existent. Please do some research before you buy.
Warning Signs of a Questionable Breeder
Be wary of a breeder who:
• Asks for a large non-refundable deposit to reserve a puppy for you.
• Sells unregistered puppies or charges additional money for registering puppies (the latter is illegal under the Animal Pedigree Act).
• Consistently advertises puppies for sale.
• Does not provide pedigree information or know the family history of the parents.
• Cannot provide proof of health screening on both parents.
• States that there are no genetic problems in the lines of their dogs.
• Does not allow you to see the mother of the puppies.
• Does not conduct a thorough interview before agreeing to sell you a puppy.
Finding a Bearded Collie Puppy from a conscientious, reputable breeder may not be easy. Be prepared to wait some time to get a puppy. Most good breeders have a waiting list for their puppies, but remember "good things come to those who wait"
What you should expect from a reputable breeder:
• A healthy, happy, and carefully bred puppy. You should be able to see the mother of the puppies as well as the entire litter. Commonly the sire of the litter is not available for viewing as quite often the bitch is sent away to be bred. If you are purchasing a puppy sight unseen, due to distance factors, most kennels will give you the names of people who have purchased puppies previously as references.
• Complete health record of the puppy. This will include the microchip or tattoo number that the puppy was identified with.
• Certificate of vaccination indicating what type of vaccination was administered and by whom.
• A four generation pedigree.
• Photocopies of all health certifications for both parents of the puppy. These clearance should include hips, eyes (as a minimum).Most Bearded Collie breeders also have medical clearance for thyroid function.
• Written sales agreement. A reputable kennel will provide you with a contract and/or guarantee (terms vary depending on the individual breeder) when you purchase a puppy. Make sure you fully understand your obligations under the agreement, as well as what the breeder is willing to do for you.
• The puppy's CKC registration should be provided, at no additional cost, to the owner by the breeder within 6 months. The breeder should have it stated in the sales contract that the puppy will be individually registered with the CKC.
• According to the Animal Pedigree Act of Canada if you are purchasing an animal deemed as purebred you are entitled to the registration papers within 6 months from the time of sale.
• A bill of sale, outlining the purchase price and any conditional sales clauses. This may be included as part of the sales contract.
• Feeding instructions for the first year of life.
• General training outline for basic obedience and house training.
• Communication and support for any problems that may occur throughout the dog's life.
• A life long take back policy for any unwanted puppy they sell. If the breeder is unable or unwilling to supply most or all of the above perhaps you should look further before buying. Above all you should feel completely comfortable with the breeder, as they should feel completely comfortable with you before considering selling you a puppy. Most breeders will ask a huge number of questions to determine if you would provide the kind of home they want for their puppies. You too should ask many questions.
What a breeder should expect from you:
• Any breeder has the right to expect you to:
• Provide proper housing and care for your dog - this means a properly fenced yard or dog run - NOT left tied out on a chain/rope or allowed to run free unsupervised.
• Provide regular veterinary checks, care, and vaccinations.
• Provide regular exercise and grooming to keep in top condition.
• Obedience train your dog, even if only to a basic level.
• Properly socialize your dog with people and other animals.
• Adhere to any additional sales clauses agreed to at the time of sale.
• Notify your breeder should you wish to give up your dog, for any reason and give the breeder the first opportunity to take the dog back.
• Give regular updates on the puppy's progress and possibly provide some nice photos.
The BCCC maintains a list of breeders in order to assist prospective Beardie owners, or those who would like more information on the breed, in finding a reputable breeder near them. Breeders are listed in alphabetical order. Click here for the list of breeders.
BCCC Puppy Referral Coordinator:

The job of the BCCC Puppy Referral Coordinator is to assist those who are looking for a puppy or older dog in finding available litters through the use of a litter list, and to educate them about what to look for and what questions to ask to ensure they are dealing with a reputable breeder.
Inclusion on the litter list is voluntary, based on the breeder being a BCCC member in good standing and paying a fee to have their litter listed. As a result there may be additional litters available or expected that are not listed, and contacting individual breeders, some of whom are listed on the Breeders' Directory, can help in finding these. To contact the Puppy Referral Coordinator, please click here